Honey Cough & Chest Congestion DM
Ages 4 and up
Help your child feel better with effective cough relief plus soothing real honey! Relieves chest congestion, mucus and quiets cough. Formula contains 19.2% Real, * True Source Certified honey. Gluten free, contains no artificial colors, and is non-drowsy
*This product contains the active ingredients Dextromethorphan and Guaifenesin.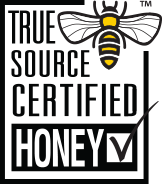 Trusted Source Honey
We value the importance of ethically sourced honey, that's why Robitussin uses True Source Certified honey. It is environmentally responsible, handled safely from hive to table, and of the highest quality—to ensure deliciousness. Look for the True Source Certified seal on all our honey products.
Cough
Chest Congestion
Mucus
Under 4:
Do not use
Ages 4-6:
5 mL every 4 hours
Ages 6-12:
10 mL every 4 hours
Ages 12+:
20 mL every 4 hours