Maximum Strength Severe Cough + Sore Throat
Your cough just won't quit. Swallowing is painful, and your throat burns more and more with each attack. It's official: you're sick. You need strong cooling action plus powerful sore throat relief.
Robitussin Maximum Strength Severe Cough + Sore Throat relieves your worst cough & sore throat pain and treats cough, cold, and flu symptoms with a nondrowsy, mint-flavored formula.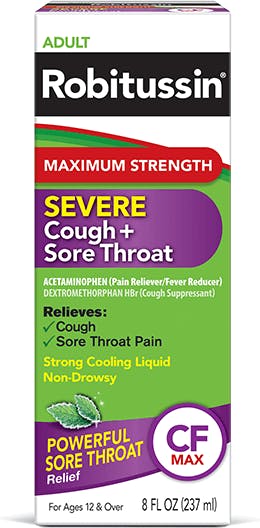 Available sizes: 4 oz., 8oz.
ACTIVE INGREDIENTS:
(IN EACH 20 ML)
Acetaminophen, USP 650 mg - Pain reliever/Fever reducer
Dextromethorphan HBr, USP 20 mg - Cough suppressant
Dose
12 YEARS AND OVER:
20 mL every 4 hours
UNDER 12 YEARS:
Do not use
Uses
Temporarily relieves these symptoms occurring with a cold or flu:

Cough due to minor throat and bronchial irritation
Minor aches and pains
Sore throat pain
Headache

Temporarily reduces fever
Acetaminophen, also known as paracetamol, should not be taken with other medicines that also contain acetaminophen. Acetaminophen is contained in many medicines to treat pain, fever, symptoms of cold and flu, and sleep medicines. Do not take more than recommended dose, as this may be harmful, including serious harm to your liver. If you have liver or kidney disease, talk to your doctor before taking acetaminophen.