Maximum Strength Elderberry Cough + Congestion DM
Find powerful relief from cough and chest congestion, along with a bright taste of real elderberries for a soothing impact. Every dose of this non-drowsy formula is crafted to control coughs and help clear chest congestion without any artificial colors, dyes, or gluten.
*This product contains the active ingredient Dextromethorphan HBr.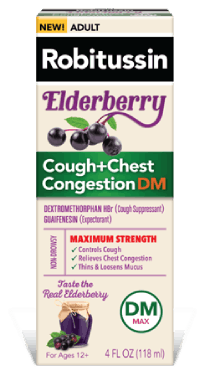 Available sizes: 4 oz., 8oz.
Active Ingredients
(In each 20 ml):
Dextromethorphan HBr, USP 20 mg – Cough suppressant

Guaifenesin, USP 400 mg – Expectorant

Coughs
Chest Congestion/Mucus
Dose:
12 Years And Over:
Under 12 Years:
Uses:
Provides temporary relief from cough due to minor throat and bronchial irritation as may occur with a cold

Helps loosen phlegm (mucus) and thin bronchial secretions to drain bronchial tubes and make coughs more productive