Maximum Strength DM Day/Night Pack
Because your cough never takes a break, neither do we. Now you can conveniently control your cough day and night. Each formulated with a fresh berry flavor and strong soothing action, our tag team of Robitussin DM Max cough liquids provide effective relief all day or all night.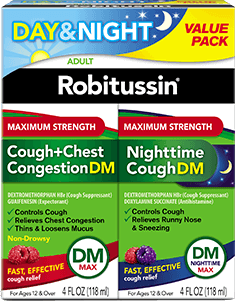 20oz. Pack - Daytime 4oz.+8oz./ Nighttime 8oz.
8oz Pack - Daytime 4oz./ Nighttime 4oz.
DAYTIME
ACTIVE INGREDIENTS:
(IN EACH 20 ML)
Dextromethorphan HBr, USP 20 mg - Cough suppressant
Guaifenesin, USP 400 mg - Expectorant
NIGHTTIME
ACTIVE INGREDIENTS:
(IN EACH 20 ML)
Dextromethorphan HBr 30 mg - Cough Suppressant
Doxylamine Succinate, USP 12.5 mg - Antihistamine
DAYTIME
12 YEARS AND OVER:
20 mL every 4 hours
UNDER 12 YEARS:
Do not use
NIGHTTIME
12 YEARS AND OVER:
20 mL every 6 hours
UNDER 12 YEARS:
Do not use
DAYTIME
Uses:
Temporarily relieves cough due to minor throat and bronchial irritation as may occur with a cold
Helps loosen phlegm (mucus) and thin bronchial secretions to drain bronchial tubes
NIGHTTIME
Uses:
Temporarily relieves cough due to minor throat and bronchial irritation as may occur with a cold
Temporarily relieves these symptoms due to hay fever or other upper respiratory allergies:

Runny nose
Sneezing
Itchy, watery eyes
Itching of the nose or throat

Controls the impulse to cough to help you sleep